Tue Sep 06, 2016 3:14 am
1MRBP98F7EY629021 1984 LINCOLN CONTINENTAL MARK VII
Gallery
JANUARY 14, 2011
Saw it.
JANUARY 20, 2011
Bought it.
Named it.
Found no fuel pressure.
Replaced the fuel filter.
Replaced the external fuel pump.
Condemned the in-tank fuel pump.
Condemned the fuel tank.
Looking for the one year only OEM in-tank fuel sender & pump.
OEM 1984 LINCOLN CONTINENTAL MARK VII IN TANK FUEL PUMP PART NUMBER E4LY-9H307-A
Last edited by
oldschool1
on Fri Sep 23, 2016 5:50 pm, edited 2 times in total.
Reason:
Edited Photo Sizes
Tue Sep 06, 2016 8:32 am
That's a lovely car, and great work fixing that fuel tank and pump.
Thu Sep 08, 2016 11:55 pm
Hi Don,
I was unable to repair them.
I'm searching for replacements ESPECIALLY the
one-year-in-tank-fuel-pump-made-of-Unobtainium.
Fri Sep 09, 2016 12:57 pm
Oh, I saw the picture and figured that it meant you had one.

If the assembly, especially the sending unit is functional or repairable, you can fabricate something for the rest. I'd see how similar the later Mark VII assembly is, and attempt to alter the old style to accept the new one. What about the tanks, if they can be swapped, you could put both the tank and pump set in together?

The special parts are the pickup and sender, plus the sock shape. I bet you can create something which will work better for future servicing.
Sat Sep 10, 2016 2:00 am
Depth is one issue. The other is control.
1984 = four wire.
1985 - 1992 = three wire.
Tue Sep 12, 2017 2:27 am
Hey Old School...
I came across this today and wondered if you still needed one and were aware (Maybe I already shared this and forgot):
http://www.nospartsltd.com/product-p/e4ly9h307a.htm
Thu Sep 14, 2017 1:09 am
I'm reading this on my phone at 1:00 AM my time and can't call them right now ... but I will!
Thank you!
Tue Sep 26, 2017 11:17 pm
Hey Old School-
Do you have the Ford part number for the in line fuel pump for the 1984?
Wed Sep 27, 2017 12:54 am
Panamerica wrote:Hey Old School-
Do you have the Ford part number for the in line fuel pump for the 1984?
•1984 Lincoln Mark VII External Electric Fuel Pump V8 5.0L
E4DZ9350A, E4DZ 9350 A, E4DZ9350B, E4DZ 9350 B
The replacement is,
AIRTEX E2000
Available at AdvanceO'ReilyPepZone.
There's a really nice video about the part also.
See,
https://youtu.be/KwoLklDEL08
Wed Sep 27, 2017 12:58 am
I appreciate it... and looking forward to reading about your in-tank pump assembly acquisition.
Wed Sep 27, 2017 3:08 am
You ...
... are welcome.
Wed Sep 27, 2017 11:48 pm
Hey Old School-
Advance had a CARQUEST E2000 for about $75.00 and a Bosch for about $110...
But then I found this for $95.00 delivered and knew you'd approve...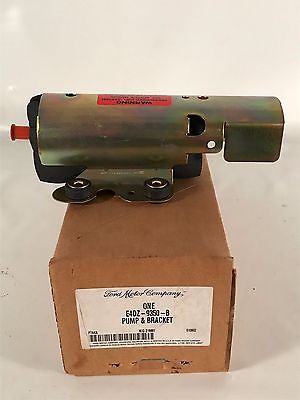 Thu Sep 28, 2017 12:52 am
Hey Old School... I don't know what's up with Photobucket but the picture was an NOS Ford E4DZ9350B with Bracket... Woo-Hoo!
Fri Sep 29, 2017 11:47 am
There you go... Photobucket tried to charge me so I used Tinypic...
Fri Sep 29, 2017 11:57 am
Fri Sep 29, 2017 4:12 pm
Good find!
I'm not sure if we can use the bracket but save it anyway as SOMEONE with a 1984 Ford product will eventually want it $$
Fri Sep 29, 2017 4:24 pm
Thanks, Old School...Will do!
Still curious about your IN TANK FUEL PUMP ASSEMBLY experience...
Post it soon... I know I'm going to have to change mine sooner or later.
Fri Sep 29, 2017 8:49 pm
It's been received and sitting on the floor for maybe the last three weeks. I've been working everyday lately, leaving very little time to play with cars.
Sun Oct 22, 2017 3:23 am
I had two hours to kill (12:30 am to 2:30 am) so I played with cars. The best best best part was when I stuck a battery in ~this~ car to air up the (now) 33 YEAR OLD AIR SPRINGS ... and they inflated! I have limited lighting so the proof will have to wait until the sun comes up. The down side was that the ignition switch has given up the ghost sooo ...
the VERY NEXT JOB
on this car will be to replace it before I do ANYTHING else.
For now, at least I was able to shoot the dash and idiot lights while waiting for it to inflate on a fresh battery.
Mon Oct 23, 2017 12:07 am
The morning after.
Still holding.
You do not have the required permissions to view the files attached to this post.
Mon Oct 23, 2017 2:08 am
Nice car John. Any idea when the odometer module was replaced?
Mon Oct 23, 2017 4:59 am
50ish and it was back in the 80s.
I have it written down in a folder for sure. Performed by the Lincoln Dealership.
I'm glad that you pointed this out because this was the type of picture that I used when I talked to people about changing the memory cube. Expect to see the S-In-A-Square at the bottom. It's actually better to change out the entire assemble.
Mon Oct 23, 2017 8:52 am
I wish I had time to play with my 84... Unfortunately, I'm stuck trying to replace the Water Pump on my 90 Blass... Had no idea I'd have to remove so much stuff (including the AC/PS Bracket). Anyway, I can live vicariously through your post... Thank you!
Mon Oct 23, 2017 4:29 pm
You are welcome.

When you take your 1990 water pump apart, make sure to take LOTS of pictures especially of the impeller.

1984 turns clockwise.
1985 through 1992 turns COUNTER clockwise.
Thu Nov 09, 2017 7:32 pm
November 9, 2017
Still holding air.