If you haven't a clue what I'm up to, see here
http://www.thelincolnmarkviiclub.org/phpBB3/viewtopic.php?f=5&t=12903
for my welcome thread to learn about me and my project. This will be a long term project that starts out with a bang! Please be patient for progress, its extremely cold here, and I love working on cars, but draw the line somewhere north of 30 degrees, thank you.
Mark 7 purists, avert your eyes!!!!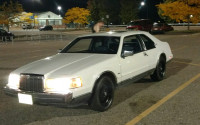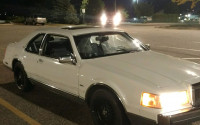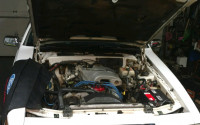 5 speed swap
I have almost everything I need for the 5 speed swap, except for my clutch kit, some random bolts, etc. Here's what I have lined up. I'm extremely excited!
88 Turbo Coupe T5(I will be splitting this apart, cleaning and painting it, then resealing it)- I drove the car it was in before I bought it, shifted good for 170k miles considering it was -5 degrees that day and it had a hydraulic clutch and hadn't been warmed up at all.
new output seal and bushing
new input bearing retainer
ebay short throw shifter and knob
clutch fork
exedy mach 400 stage 1 clutch kit
adjustable cable, firewall adjuster, aluminum quadrant
11/16 driveshaft spacer(I'm going to use this to get the project done quickly, then I will look at a custom ds)
Diesel Ranger pilot bearing
rear main seal
bellhousing and pressure plate hardware kits
LUK flywheel and bolts
fox bellhousing and block plate
reusing auto crossmember
fox Mustang pedal assembly (new clutch switches and brake switch)
I'm sure there's more, but you get it.
I have the interior trim piece and boot (top and bottom) from the Tbird. I think I can get it looking pretty darn good. We will see.
Brake swap
the ABS is not working, I flushed the hell out of the system, and bought the only reasonably priced accumulator i could find (used) on ebay, its still not holding a charge. After a ton of research, and going back and forth between hydroboost and vaccum, I decided on this set up:
86 SVO master cylinder
93 Cobra booster
Wilwoood combination/proportional valve(has 3 output ports, 2 front, one back and 2 input ports)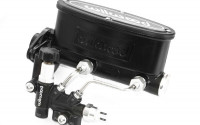 It will look just like this, but with the SVO MC. I think this is going to be awesome. I just need to see what it will take to get the car lines attached to this.
I already replaced all 4 calipers, all pads, and rotors(managed to find slotted rotors for the front!)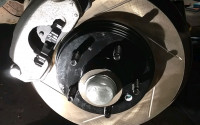 Suspension
--
I personally like a nice, low car with no fender gap. I will not be doing anything with the suspension immediately, except maybe shocks/struts.
However, I have been thinking about trying Mustang springs with the Arnott perches, the springs look (in pictures) to be of the same design. I am hopeful that I can get a used conversion kit, and a cheap set of Mustang springs and make it happen!!! Worst case, I will cut the Arnott springs to lower it. Has anyone done either of these before??? I have searched, and searched and could not find anything.
I managed to score the rear TC sway bar from the car the trans came from, waiting to hear if I can have the front as well. If nothing else, I will have good struts and the sway bar for awhile. Air bags work, so this is a low priority... for now.
Eventually, I will do the CHE rear arms, and replace the rest of the bushings, upgrade the rack to SN95, etc.
Exhaust
--
This car is virtually rust free, a true blessing where I come from, and all the exhaust bolts came free with no drama... amazing.
I immediately replaced the stock hpipe with a Mac offroad hpipe. I cut out the tailpipes and put MAC pro dumps in. It sounds absolutely ridiculous and old school 5.0, all the way. I love it.
Engine
--
For once in my life(oh gosh, I must be getting old!!!), I am concentrating on everything BUT power first...that almost hurt to say.
I deleted the a/c and smog, just like I have on every 5.0 anything I have owned my entire life. It feels so good to free up the engine bay!
I relocated the power steering, you have to replace the bracket with a Fox bracket for the kit to work, and if you delete the a/c, you need the kit, or the belt rubs. A 73.5" belt works perfect for this set up.(no delete pullies, just bypass and remove, and relocate P/S). Unfortunately, the factory 26 year old p/s pump did not like getting its pulley removed and reinstalled...so it started leaking. So I replaced it. Car already had a new water pump and radiator a year before I bought it.
I did a full tune up, including the coil and ignition module(just to have the replacement module fail a week later, and put the factory one back in), PCV, fuel filter, air filter, blah, blah, blah. Bumped timing to around 16 degrees. Car runs great.
I know a guy that has a set of Dart 180 iron heads I can get for $400. Just need rockers and push rods. Was thinking I'd get these eventually and a GT40 intake and get it tuned just on that, maybe throw some injectors in there. I have a 190lph fuel pump to install with the correct strainer, plan on cutting a hole in the truck to do it.
Rims/tires
--
I work with a guy that has a 07 Stang with Bullit rims, he is upgrading soon, and I will be able to get them for dirt cheap. I think I will try and figure out what spacers I need to do this. I've searched on here a little, but need to do some more digging. I really dig the Bullits on these cars, or any car for that matter. Any info would be appreciated.