Hey everyone!
My name is Justin, I live in Wisconsin and am a long time Ford enthusiast. I have had many projects over the years, mostly MN12 Tbirds, Foci, a few Mustangs, etc. A few years ago, I sold my long time love and project car, Betty (91 Tbird SC w/95 Cobra engine and 5 speed) to move onto something different. I ended up with a Mazdaspeed 3, that I've modified to a "stage 3 on E85 tune". Its a great car, but I miss my 2 ton V8 luxobarges.
So, last year I started scouring forums and Craigslist for a new project. I knew it had to be a Fox chassis car, the MN12 chassis is a struggle due to lack of aftermarket support. I really wanted a Turbo Coupe, but could not find one in my price range. I managed to find a 91 LSC that has to be one of the only rust free Mark 7s in Wisconsin and gave it a new home after being with the same owner for over 22 years. It was all original(to a fault!!), and had almost no exposure to winters since 1994. The ABS had issues, the tires are old, it had never had a tune up, and had not been driven much in the last few years(despite 149k on the odometer). It did have a new water pump and radiator recently installed, and she was aware that the car needed more work and that she just couldn't justify maintaining it.
I managed to convince the nice lady I would be giving the car a good home, keeping it on the road, and making it better than it ever was(her boyfriend wanted to demo-derby it), and I drove it back home over 1.5 hours for $1900, almost $1000 less than her asking price. Aside from a caliper locking up, I made it the whole way, and fell in love with the car, plotting and scheming the different routes I could take with it.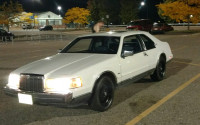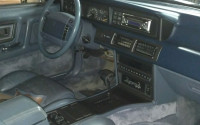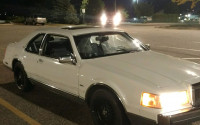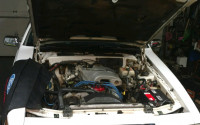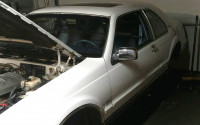 I spent the first night, completely detailing every inch of the car, making a list of everything I knew it needed. It is alarmingly clean, with very few cosmetic faults inside or out. I spent the next few weekends replacing all 4 calipers, rotors and sets of pads, full engine tune up, removed smog system and A/C, removed factory exhaust and replaced with off road hpipe and Mac pro dumps, new o2 sensors, bumped the timing, flushed all liquids, etc. The only remaining issue is the ABS, I sourced a used accumulator and flushed the system with a gallon of fluid and it still won't hold a charge. This is the only thing that is keeping it from being road worthy, but I have big plans for next spring.
I found a relatively local guy parting out a Turbo Coupe 5 speed, and after talking to him discovered he was a Fox Tbird enthusiast with a billion extra parts laying around. I test drove the TC and confirmed the 5 speed shifted well, and made a deal. For $400 I got the T5, driveshaft, shifter boot and console piece, v8 block plate, Mustang T5 bellhousing, Fox stang pedal assembly with sensors, the front seats(cloth blue), rear sway bar, and a bunch of other small stuff. Quite a deal. I have the remaining things I need for the trans swap, brake conversion, and new struts all around all in carts on Rockauto and LMR for about $700 total.
I am well aware of the details of this trans, and don't care. It will serve well to be a cheap way for me to get the initial conversion done without breaking the bank. I have read every 5 speed swap thread I could find on this and other forums and am completely ready to attack this.
I'm super excited to rip into the rest of this project. The car is just fantastic, and I can't wait to make it better and enjoy it for many years to come. All said and done, I will have just under $4k into a rust free Fox car, with a 5 speed swap. I think that's pretty awesome. The only thing I will need to address after all this, is either new rubber or converting to Mustang wheels and tires. I will probably do a rack replacement and full suspension rebuild shortly after this is all done.
I realize some of you are purists, but I just am not, I am a modifier. I can't leave anything alone, and the build is the best part of owning any car. Building a car to meet the vision I have for it is the real thrill for me. I look forward to getting to know all of you!